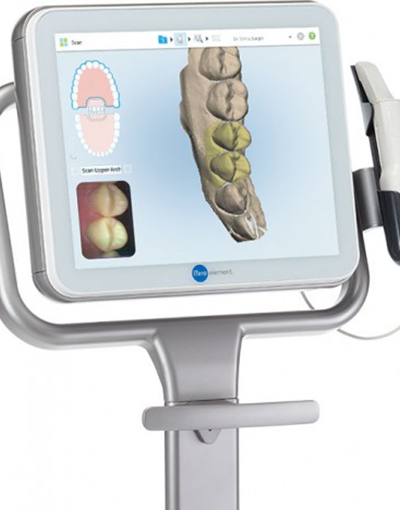 With the iTero digital scanner, your orthodontist can take a highly accurate digital impression of your teeth and jaw, without the stickiness and hassle of traditional impression molds.
The iTero scanner provides precise 3D imaging of your smile to allow us to accurately assess your orthodontic needs as we prepare for treatment. It also provides a preview of your potential treatment results, so you'll get to see a virtual image of your future smile. The iTero Digital Scanner is a quick, easy, and hassle-free start to the journey to the smile of your dreams.
How Does the iTero Digital Scanner Work?
The iTero 3D Scanner captures digital images of your smile using a small, handheld wand. Your orthodontist will scan your teeth with the wand while it gathers thousands of images per second of your smile. With the iTero 3D system, these images are put together in real time and displayed on the scanner's screen.
Once these images are taken, your orthodontist will discuss your orthodontic treatment plan and show you the future results of your smile, thanks to this start-of-the-art technology. The images of your smile are then sent off to a specialized lab for evaluation. Whether you're getting traditional metal braces, ceramic braces, or InvisalignÆ clear aligners, the iTero Digital Scanner will be a quick, easy step to your best smile.
Have Questions About the iTero Digital Scanner? Contact Us Today!
If you'd like to learn more about the iTero Digital Scanner or would like to schedule a complimentary consultation, contact River Falls Orthodontics today. We're conveniently located in Simpsonville, SC, for your smile's needs!